Shreeti Shrestha works as a software engineer at Cotiviti, a multinational healthcare analytics company, for the past three years. However, his life is different from that of other software engineers.
Originally from Palpa, Shreeti Shrestha was diagnosed with a rare genetic condition when she was 12 years old. Yet despite being in a wheelchair, today she has become an inspiration to many women and young people with disabilities to come forward and pursue their careers. in the field of technology, which was traditionally considered a male field that required physical strength. Yet as she reminisces about her memory, Shrestha recalls that the journey so far has been full of struggles and accomplishments.
Problems with possibilities
Shortly after her birth in 1996, Shreeti Shrestha's family moved to Kathmandu.
According to her mother Anita, she crawled very late. "We didn't realize there was a problem as she used to sit in one place and play. We thought she was a very well-behaved child," the mum shares, "But since she couldn't walk properly when she was a year old and older, we got worried and started seeing doctors."
Shreeti Shrestha's father, Kiran, was himself a surgeon, so the family immediately took notice of the issue. Then the parents first took her to Patna when she was five years old. However, the effort proved futile as doctors were unable to diagnose his problem. It was not until 2008 in Bangkok that doctors recognized that she suffered from spinal muscular atrophy (SMA).
After teaching her the basic alphabets at home, her parents sought a school where there would be very few students so that she could receive enough care and support. And, they found one too.
"My school, Ikeda based Ravi Bhawan from Kathmandu, was more like a family than a typical school," says Shrestha, an all-grade topper at the school, "My friends were also very supportive and my teacher encouraged and supported me a lot in my studies.
However, the school's infrastructure was not suitable for people with disabilities, complains Shreeti Shrestha. In terms of infrastructure, it was like any other common house. Only because everything was on the ground floor for the primary level, so she didn't encounter any obstacles. For the secondary, the school authority moved the classroom to the ground floor just for her.
"My school has also assigned people to support me in need. So, I didn't have a lot of problems during my school years," she shares. "Until the seventh grade, I was not in a wheelchair, but I needed some support to walk because of this disease. You know that this problem evolves with age; gravity increases as you grow.
There are no cure for this disease again. Some treatments can minimize the weaknesses, but they are not available in Nepal. Moreover, it is very expensive.
In the 10th year, Shreeti Shrestha had to undergo spinal surgery. For the next two years, she was unable to attend school due to side effects from the surgery. However, her parents arranged for teachers to visit her at home.
Fascination with the computer
Over the years, if anything has attracted Shreeti Shrestha, it's computers.
"I was in second grade when my father bought a computer. I started learning to use computers in fourth grade," she says, "Since then my interest has grown steadily.
As school taught her to make PowerPoint presentations, she practiced at home helping her father. "The more I started using computers, the more my interest grew."
Recognizing his interest, his teachers also focused on programming from an early age. They would give her problems so she could explore further. She also self-taught many things about computers. She chose physics as her major in her final years of study, as she was then committed to venturing into the field of computer science.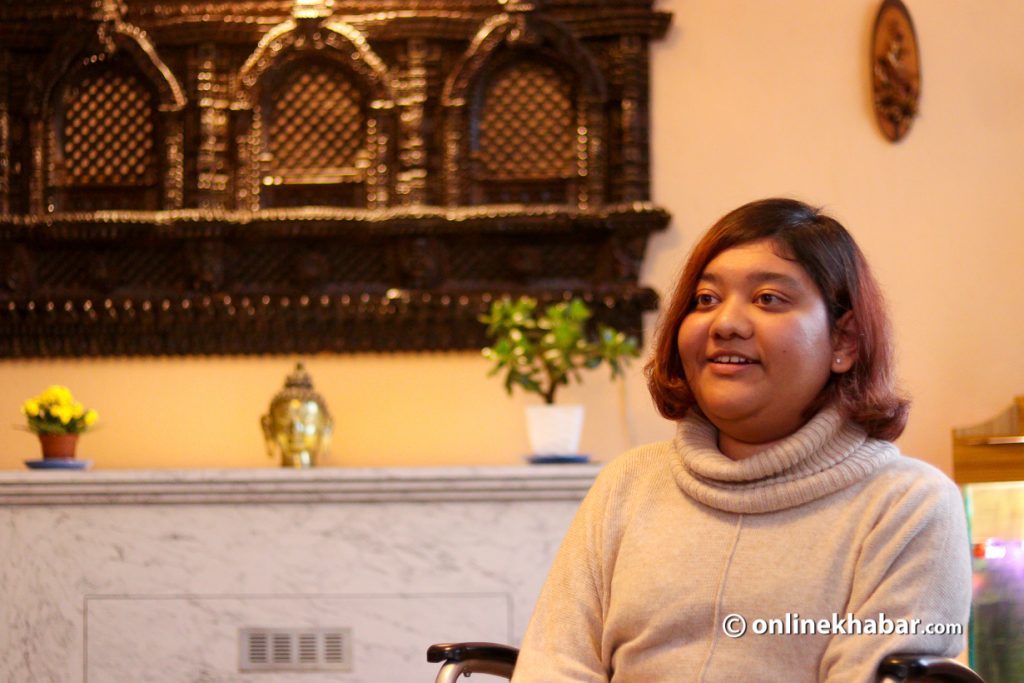 Subsequently, Shreeti Shrestha enrolled at the Pulchowk Engineering Campus in 2014 for a BE in Computer Engineering as the family discovered that there was disability friendly infrastructure and she could study there comfortably.
"A few people tried to indirectly treat her as a burden and discourage her, thinking they had to make an 'extra' arrangement for her. But there are many who have motivated her on her journey," recalls Shrestha's mother during the campus tour. Shreeti Shrestha also recalls, "The Dean also motivated me to take the entrance exams. He assured me of his support in the best possible way.
"They never intentionally discriminated against me. But, I observed some small things such as women only befriending men and women and the stereotypical mindset that women or girls are not computer savvy," shares Shrestha on her college experience, "A lot of women underestimate themselves. But I wanted to break that and I think I managed to do it somehow.
Shrestha is proud that she even became able to draw the drawings necessary for her studies, even though her muscles were weak due to illness. "I didn't know how I was going to handle it all. But my worries disappeared when my friends helped me.
An exciting career path
After graduating from high school, Shreeeti Shrestha took a six-month break and started working in February 2019.
"Since there was no provision for working from home then, I had to think a lot before applying for a job, mainly about the accessibility or convenience of the company office for me," shares- she, adding that she could not join many jobs due to the same problem despite being selected.
Then, she had the opportunity to work for Dallo Tech on projects launched by her friends. She is still there as a co-founder.
Shreeti Shrestha has no accessibility issues as it has an elevator. "Also, the team is supporting me as they have made some necessary modifications, including the installation of ramps in the canteen."
However, for two years the team has been working remotely due to the Covid-19 crisis. Before that, her father helped her get around. It was the same from school to work.
Now Shreeti Shrestha wants to do a masters to further her career. You must not underestimate yourself; as long as you aim and work hard, you can do it. There is always a way out," she says.
Her mother is happy that she has been successful in her career so far. "When she was a child, we used to carry her from floor to floor and place to place. According to his needs, we modified the structures of our house, including the installation of elevators, ramps and everything. But now she has made a career on her own. Isn't that something we can be proud of? »