The flight readiness review for NASA's Artemis I mission is complete and teams are heading into a two-hour launch window that opens at 8:33 a.m. EDT Monday, August 29 from the ramp Launch Pad 39B from Kennedy Space Center in Florida. NASA will hold a press conference around 8 p.m. to discuss the results of the review. Listen live on the the agency's website.
The participants in the teleconference are: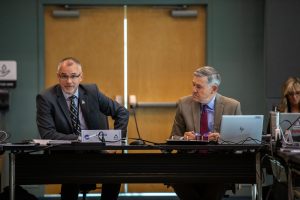 Janet Petro, Director, Kennedy Space Center
Bob Cabana, Associate Administrator, NASA Headquarters
Jim Free, Associate Administrator, Exploration Systems Development Mission Directorate, NASA Headquarters
Mike Sarafin, Artemis Mission Leader, NASA Headquarters
Charlie Blackwell-Thompson, Artemis Launch Director, Exploration Ground Systems Program, Kennedy
Howard Hu, Orion Program Manager, Johnson Space Center in Houston
Chris Cianciola, deputy director of the Space Launch System program, NASA's Marshall Space Flight Center
More details about the mission and Artemis can be found in the press kitor by following the Artemis blog.